Ensuring Procurement generates value to the business
2 Minutes
Measuring cost savings as the only means of assessing the effectiveness of your procurement function can only have a finite impact and whilst achieving cost savings remains an imperative mission of Procurement, assessing the maturity of the function ensures it also delivers value to the business, above and beyond price.
Create value with procurement by truly assessing its position within the organisation.  Ask yourself…
Is it seen as an integral division within the organisation?
What has the procurement function delivered beyond cost savings?
How has procurement helped the company achieve its sustainability targets or improved the customer experience?
Is procurement a driver or a barrier to innovation?
Do you have the right people/capabilities to deliver maximum value?
Impactful assessment
Through the evaluation of Procurement, assessing the teams status quo, applying industry benchmarks, and aligning the function against best practice, will ensure any value delivered above and beyond cost savings benefits remain sustainable.
Procurement assessment piloted against 8 dimensions, from organisational set-up to procurement processes
Comparative analysis to industry benchmark and best practice
Quantitative analysis performed on all external expenditure
Qualitative assessment of the procurement function, through key stakeholders interview and staff assessment
Spend transparency, including spend categorisation
Procurement Maturity assessment & price benchmarking
Curzon's assessment methodology
Our assessment methodology measures the function across all aspects of procurement providing insights in key strategic areas.
(click image to expand)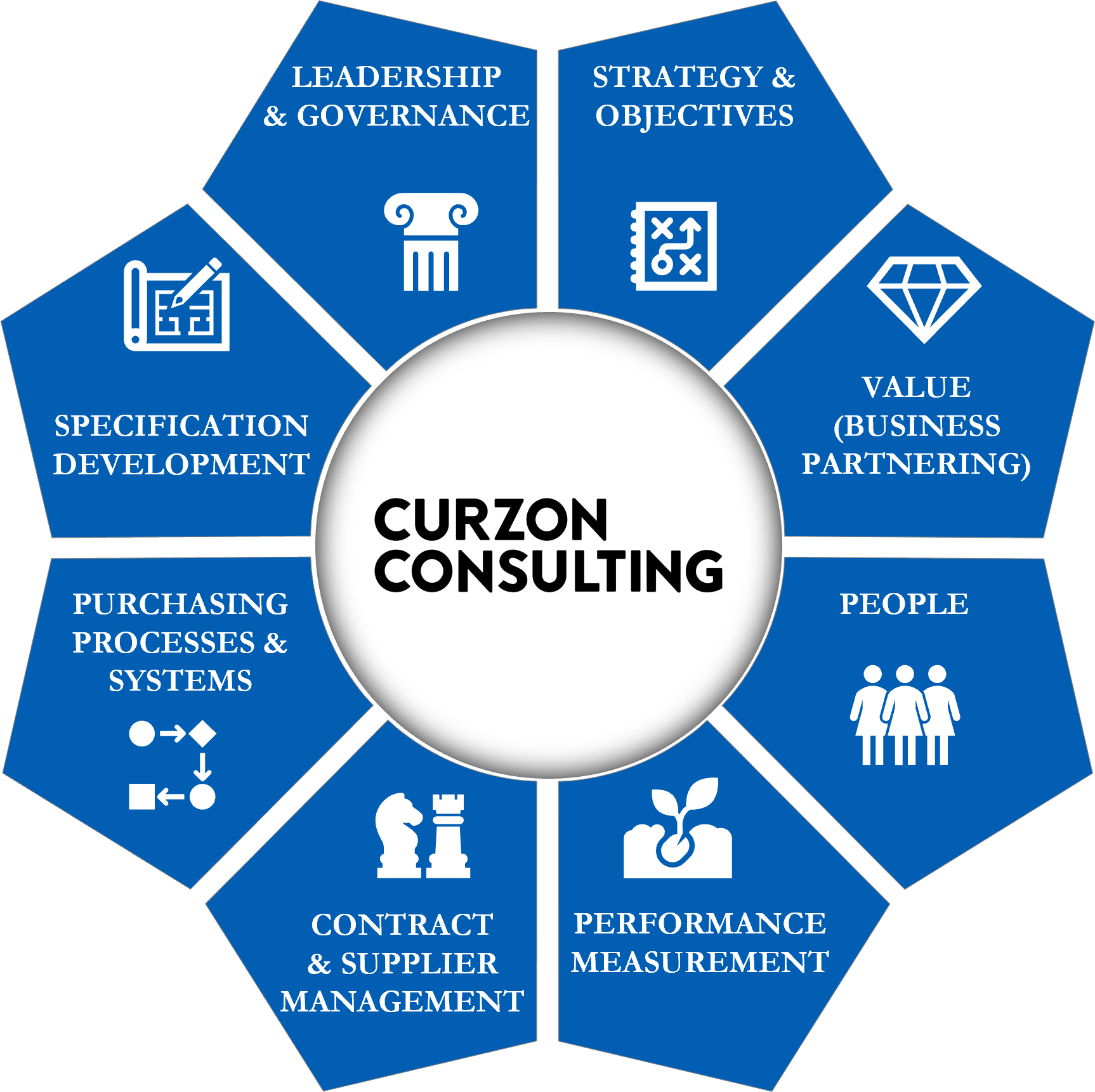 Does the organisation manage its suppliers and contracts effectively? Are we an attractive account?
How does the supply base perform? What competitive advantage do they bring to the company?
How do suppliers and the organisation work together to bring additional value and improvement?
Do we have efficient processes, systems & tools to support advanced procurement activity?
How does the organisation use advanced analytics to generate fact based approach?
Can the organisation demonstrate a prudent and well-planned approach to defining its supply needs?
What role does procurement play in defining requirements, in influencing needs and challenging status quo?
How does Procurement compare to similar organisations?
What are the Top Management expectations towards Procurement
Is there clear direction from Top Management?
Do we have the right policies and support in place to enable Procurement?
What level of maturity does the Procurement Organisation offer?
Do we have the right Procurement / Category strategy in place?
What is the perceived value of Procurement within the business?
Is there a disconnect between Procurement and the business? Why?
Is procurement a blocker/enabler to our sustainability, innovation strategy?
What has procurement delivered above and beyond savings?
Is the organizational structure adapted to Procurement needs?
Is Procurement's size adequate?
Does the organisation have people with sufficient capability to ensure effective performance?
What are the gaps and training needs? How to increase capability and optimise category strategy
Does the organisation have a sound approach to assessing and demonstrating its performance?
What has the procurement function delivered over the last few years?
What are they expected to deliver in the future?
We believe Procurement should not be a barrier to improved sales, sustainability, or innovation, it should enable these.
With extensive experience in supplier value creation, supply market reviews, seller negotiations and a great track record of delivering cost savings for our clients, I have no doubt we can help you deliver substantial benefits to your organisation.