20th September 2019
8 Minutes
In his latest blog post, Rodrigo Quezada explores what business leaders can do to manage a workforce comprised of five generations.
Make your workforce your secret weapon
In the workplace, times they are still a' changing… For businesses to remain prosperous they need to face a number of challenges, including how to leverage an inter-generational work force with different needs and motivations. In fact, today's workplace can contain up to five generations: Traditionalists, Baby Boomers, Generation X, Millennials and Generation Z.
Business models are navigating disruptive technology and changing customer needs. In addition, companies across all industries need to be able to leverage their workforce to maintain their competitive edge. So, with such a diverse workforce that covers a wide range of generations, how can leaders keep their people engaged, productive and motivated? When designing organisation transformation programmes, these are the goals that I focus on. Whether the workforce is comprised of Traditionalists, Millennials, Gen X, Gen Z or all of the above, designing specific organisational structures to keep everybody working at their optimal levels in the workforce is key.
The generations redefining the workplace
Definitions of Millennials and Gen Zs, and the distinctions between them, vary according to the source. No matter the definition, these generations have transformed how people engage with work and communicate. This is influencing the way businesses must operate, now and in the future.
Characteristics of Millennials and Gen Zs
There are always be exceptions to the rule, but there are broadly a number of characteristics that define these generations:
Experience over material– One study found that 78% of millennials would choose to spend money on a desirable experience or event over buying something desirable, and 55% of millennials say they're spending more on events and live experiences than ever before. This affects the appeal of traditional perks offered by companies to their employees.
Responsibility – Purpose is king and wider social value is becoming an increasingly important factor
Digital – As 'digital natives', communication and consumer purchases are driven by digital devices and platforms
Flexibility – Working 9-5 is no longer the way to make a living. Flexibility is increasingly important. As featured in a The New York Times article this week, "the rest of their lives happens on their phones, not tied to a certain place or time — why should work be any different?"
Enabling "Generation Go" to Stay
Millennials have been nicknamed "Generation Go". To utilize their energy and commitment in the workforce, businesses need to provide flexibility and keep pace with them, or risk losing out on the very competitive edge that comes along with the innovation they bring. Traditionalists, Baby Boomers and Gen X leaders need to find a way to share their business knowledge with millennials. Currently, millennials are managing 65% of the work of others globally. If you haven't focused on the retention of this generation, you could lose leverage. Studies have shown that millennials are more likely to change jobs due to the economy over previous generations.
The top reasons Millennials and Gen Z choose to leave a job is:
Lack of shared purpose and connection to a bigger goal
Minimum wage growth
Lack of advancement opportunity
Excessive hours
A work environment that doesn't foster teamwork
What business leaders can do
As a business leader, it's important to understand the mentality of your workforce. This is increasingly complex due to the multiple generations. Some basic cultural elements will never change such as having decent morals and respect for your fellow employees, but truly understanding how different generations tick could be the driving force for a successful business. By the year 2025, it is predicted that 75% of the workforce will be comprised of Millennials and Gen Zs. Therefore business leaders must understand how to attract millennials, retain them, and maximize their job performance.
Importantly, business leaders must also know how to effectively create succession plans while maintaining a strong focus on execution and innovation, incorporating new generations like Millennials. Sharing skills between generations is key – adopting new ways of communicating while also passing down the critical business knowledge that has been accumulated throughout the organisation. For a successful workforce, leadership must excel in understanding their employees and how to leverage different types of knowledge to excel and lead in the market.
Communication is a two-way street
In my experience I have found that the most effective way for senior leadership teams to engage in this two-way channel is to create special spaces like buffer zones which include forums, channels, and programmes that consistently maintain an open communication kept alive and relevant on both ends. This, combined with the more classic approaches like Leadership Development Programmes, and High Potential programmes give enough "credentials" for a programme to be taken seriously and succeed over time.
Key questions business leaders can ask about their culture
If companies want to become generational friendly and attract an elite and talented workforce to keep the company progressive and lucrative, it may be time to make some changes.
Does your company have a clear and shared purpose? Statistics now show employees perform better when they feel a connection to peers and management towards something bigger than just profits and business results
Is your company culture rigid or flexible? Foster a community-type atmosphere. Get rid of the top-down management structure and replace it with a more lateral management approach with tons of open communication.
Does your company still require formal business wear every day? Change to a more casual dress code, dress down.
Are your incentive and compensation schemes effective? Start offering perks that go beyond cash bonuses that studies show are so easily forgotten. Instead, offer company vacations as incentives.
Enabling each employee to share their skills with the wider team, regardless of generation, is key. With the tremendous amount of knowledge and experience older generations have, offering apprentice and mentorship programmes are a great way to make the top and bottom of organisations closer and close the gap that may exist between different approaches. It is one of the best ways for business leaders to engage new generations and identify new business opportunities for the long term growth and path of an organisation.
Learn to leverage your workforce, and make it your secret weapon.
Contact Rodrigo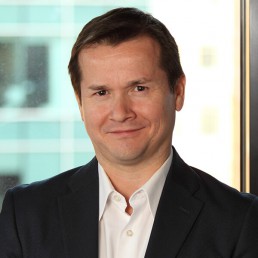 Rodrigo Quezada
Rodrigo is a strategy and operations Managing Consultant designing and leading business transformation projects
More about the author